For the majority of his WWE career, Edge has been part of a tag team. Although he is awesome as a solo wrestler, he has positively shined in these bouts. Below is a listing of people our favorite blond Canadian has teamed up with at one point or another.
Edge and Christian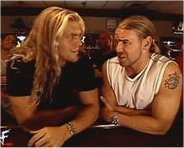 Wow, these two have done it all together. Their teaming dates back to their indy days, and in the WWE, as far back as 1998. They had a great run as The Brood, along with Gangrel, and then broke out on their own. For awhile, fans wondered whether they would ever get to be Tag Team Champions, when lo and behold, they won the titles at WrestleMania 2000 in the famed Triple-Threat Ladder match against the Hardy Boyz and the Dudley Boyz. They went on to become the tag champs another seven times, putting them in the history books as holding the belts an unprecedented seven times.
---
Edge and Hulk Hogan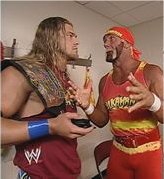 Edge lived out a lifelong dream when he became tag team partner with Hollywood Hulk Hogan! The two only teamed for a short time, but became Tag Team Champions on the 4th of July episode of SmackDown in 2002! Yes, it was definitely a dream come true for Edge!








---
Edge and Rey Mysterio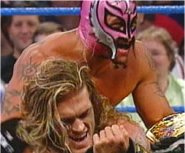 According to Edge in one of his Edgeucation Commentaries, he and Rey were originally teamed up accidentally. Well, for a team that was never supposed to happen, they did pretty well for themselves! They captured the tag team gold and went on to feud against the teams of Chris Benoit and Kurt Angle, Los Guerreros and Team Angle.



---
Edge and Chris Benoit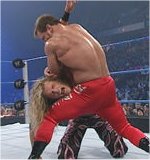 Okay, I know the above is a picture of Edge and Chris Benoit fighting against each other, but I don't have one of them teaming together! Anyway, these two made a great team, combining strength and quickness, not to mention technical ability! They were definitely due for a Tag Team Title reign or two, but it was cut short due to Edge's neck injury. And, more recently, the two teamed up again since Edge's return to the RAW roster and became champions together, only to lose the belts to La Resistance after a mishap when Edge accidentally speared Benoit.
---
Edge and Lita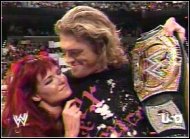 Edge and Lita are of course partners in a different way, and the fiery redhead has been by Edge's side for considerably longer than any others. She has helped him in his matches in so many ways as well as lent him support when most of the fans would boo him for the heel that he is. They have definitely given one another a mutual boost as well, with Edge keeping watch during Lita's Women's Championship match against Mickie James (in which she won the gold). Together, the two are now officially the most dominant couple in the WWE.
---
Edge and Randy Orton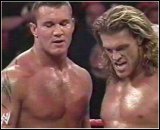 Edge and Randy Orton aligned with one very important mutual goal in mind - to take out DX once and for all. Rated RKO have become a dominant force on RAW, defeating their hated foes at Cyber Sunday and even captured the World Tag Team Championships together. With their youth, hunger, passion and intense hatred to end D-Generation X and their immature antics, these two may very well be an unstoppable force.